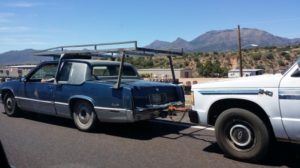 It doesn't not matter how big or small a car is, at one point, the owner might need to transport something that won't fit inside. The good news is that, some sedans and crossovers can tow a trailer. However, following the manufacturing manual is important for checking the capacity that your family car can haul. Some of the family cars which are recommended for towing are;
CR V HONDA
One factor which qualifies this car to tow is the fact that it has a cargo space of about 75.9 cubic feet and the second row of its seats can be folded. The car can haul a trailer of about 1,500-poundtrailer. The LX, EX, and touring models can tow comfortably.
Accord, Honda
This car is equipped with a 2.0-liter engine and it can tow a trailer weighing up to a 1000 pound. A small pop up trailer for camping can be towed perfectly. The 1.5-liter engine accords should never be used for towing.
Jeep Cherokee
The Cherokee outshines most of its competitors by having a towing capacity of 2000 pounds. Most SUVs can only tow below that. With the engine upgrade from a four cylinder to a 3.2-liter v6 engine, the towing capacity increases to around 4000 pounds. The car still delivers quite a remarkable performance off-road.
Sorento, KIA
All models having a four-cylinder engine can tow a maximum of 2000 pounds trailer. An optional v6 engine can tow up to 3,500 pounds. Additionally, if the SUV is an all-wheel drive the capacity rises to 5000.
Ford edge
The midsizedSUV is of quiet cabin, spacious, and comfortable. Models with a 2. 0 L four cylinder or 2.7 L v6 engines are capable of towing a trailer weighing 3,500 pounds. However, for the Edge to tow such weight, it requires a towing package which is given on higher trim levels. The package consists of wiring harness, the sway control, and a hitch receiver. Without the package, theEdge is limited to trailers weighing 1,500 pounds with the 2.0 L four-cylinder engine and not recommended with a v6 engine.
If you want to learn more about towing and how to fulful your towing needs then please check 10 best towing vehicles that aren't trucks to learn further.